FAQ about Vintage Catch Leather Co.
How did this wallet venture get started?
I used to own bifold wallets that had no pizzazz. They would slowly accumulate cards, receipts, and other little paper items that I really had no use for. The wallets got fat and uncomfortable in my back pocket, much like the George Costanza wallet. So a few years ago I began searching for a minimalist style wallet that could fit comfortably in my front pocket (because I have lost a couple wallets in the past that squirted out of my back pocket). After not finding what I really wanted, I decided to try to create a simple wallet on my own. After many rather crude prototypes, I found a few designs that best suited my needs. As things slowed down significantly at my print shop due to the pandemic, I got more involved in leather crafting and formed the Vintage Catch Leather Co.
How do you make your wallets?
The wallets are all handmade. After selecting a glove or a football, I disassemble, flatten, clean and condition the leather. Then parts of the glove (or football) are cut out to be included in the design and construction of the wallet. The leather sections are then glued, punched and hand-stitched before finishing touches are made to complete the project. Often times, I will use full grain leather that is thinner than a ball glove to form parts of the wallet (such as the interior card pockets), allowing for a slimmer, sleeker wallet profile.
What style of wallets do you make?
Styles vary, and hopefully one or more of them will fit your needs. I make classic bi-folds, spring clip wallets, and various versions of card holders. Some people like bigger, fatter wallets while others (like me) prefer a smaller, thinner piece that can fit conveniently in your front pocket; some may carry lots of cash while others get by primarily with debit/credit cards....these are just a couple factors that might determine what style is best for you.
How do you choose what ball glove to use to make a wallet?
The wallets are primarily custom made, so I try to select a glove (or football) that appeals to the customer, perhaps a certain brand (such as Wilson or Rawlings), color, age or player signature model can all play a part in the design of a wallet. I have a number of old gloves and footballs from which to choose from….or a customer can bring in their own and have it transformed into a wallet.
Do you make wallets that are not sports-related?
Yes. All styles shown on this website are available and can be made using more than 25 in-stock full grain leather options in cowhide, horsehide and bison. Embossed crocodile and snakeskin leather print as well camouflage leather are among the options.
How long will it take to get a wallet made?
It all depends on what is going on in my life (usually nothing too exciting) and how busy I am at my regular job, but generally speaking allow at least one to two weeks to complete the project. I do have a few wallets already made that are available and on display at my shop; but I prefer to customize a wallet that meets your needs.
How much do your wallets cost?
Pricing varies depending on a number of factors. The price range listed for the various styles is not firm but basically a guideline. Wallets made from ball gloves and footballs are on the higher end of the spectrum while standard leather wallets will be on the lower end. For instance, a wallet made with an Al Kaline signature model glove will cost more than a wallet made from a generic glove.
How do I contact you if I have more questions or want to make a purchase?
It's best to shoot me an email at dregentin@yahoo.com or a text to 810.710.1099....you can also call me at 810.376.3805 or stop in to my shop, just north of the stoplight in downtown Deckerville. Below are some samples and styles available. Some options can be interchangeable on the different wallets.
When choosing the right wallet, here are a few things to consider:
Do you prefer a traditional bifold for your back pocket or a smaller wallet/cardholder for your front pocket?
Do you carry/use cash frequently or primarily use a debit/credit card?
If you regularly use cash, do you want bills unfolded (bifold or spring clip wallet) or folded (magnetic money clip or card pocket)?
How many cards do you want to carry in your wallet?
Do you prefer a baseball or football style wallet or maybe some other type of leather (such as embossed gator, camouflage or a basic full grain leather) ?
Do you have a leather color preference, i.e. brown or black?
"TRADITIONAL BI-FOLD"

* Full-length cash compartment
* 4 horizontal card pockets
* 3-1/2" x 4-3/8" (folded)
Price range: Starts at $50

"VERTICAL BI-FOLD"

* Dedicated cash compartment for unfolded bills
* ID window with 'hidden' card pocket
* 3 card pockets
* 3-5/8" x 4-1/4" (folded)
Price range: Starts at $50


"DELUXE SPRING CLIPPER"

* Spring clip
* Exterior ID window
* Exterior vertical card pocket
* 2 interior card pockets
* 2 'hidden' interior card pockets
* 2-7/8" x 4-3/4" (folded)
Price: Starts at $50


"STANDARD SPRING CLIPPER"

* Spring clip
* Exterior vertical card pocket
* 2 interior horizontal card pockets
* 2-7/8" x 4-1/2" (folded)
Price: Starts at $45

"4-POCKET VERTICAL"

Exterior ID window
Exterior vertical card pocket
* Interior cash compartment pocket (for folded bills)
* Interior vertical card pocket
* Interior 'hidden' card pocket
* 2-7/8" x 4" (folded)
Price: Starts at $45

"ID CARD HOLDER"

* Exterior ID window
* Center gusseted cash compartment (for folded bills)
* 2 exterior horizontal card pockets
* 2-7/8" x 4"
Price: Starts at $40



"MAGNETIC CARD HOLDER"

* Cash strap w/ 2 strong magnets
* 1 exterior vertical card pocket
* 2-7/8"x4"
Price: Starts at $45

"VINTAGE HOTEL KEY FOB/RING"

* Stretched diamond-shaped leather
* Round bronze key ring
* 1-1/2" x 3-1/2"
Price: Starts at $12

"VINTAGE HOTEL KEY FOB/CABLE"

* Stretched diamond-shaped leather
* Stainless Steel cable with screw lock
* 1-1/2" x 3-1/2"
Price: Starts at $12
Interior of Super-Sized Bi-Fold
Interior of Super-Sized Bi-Fold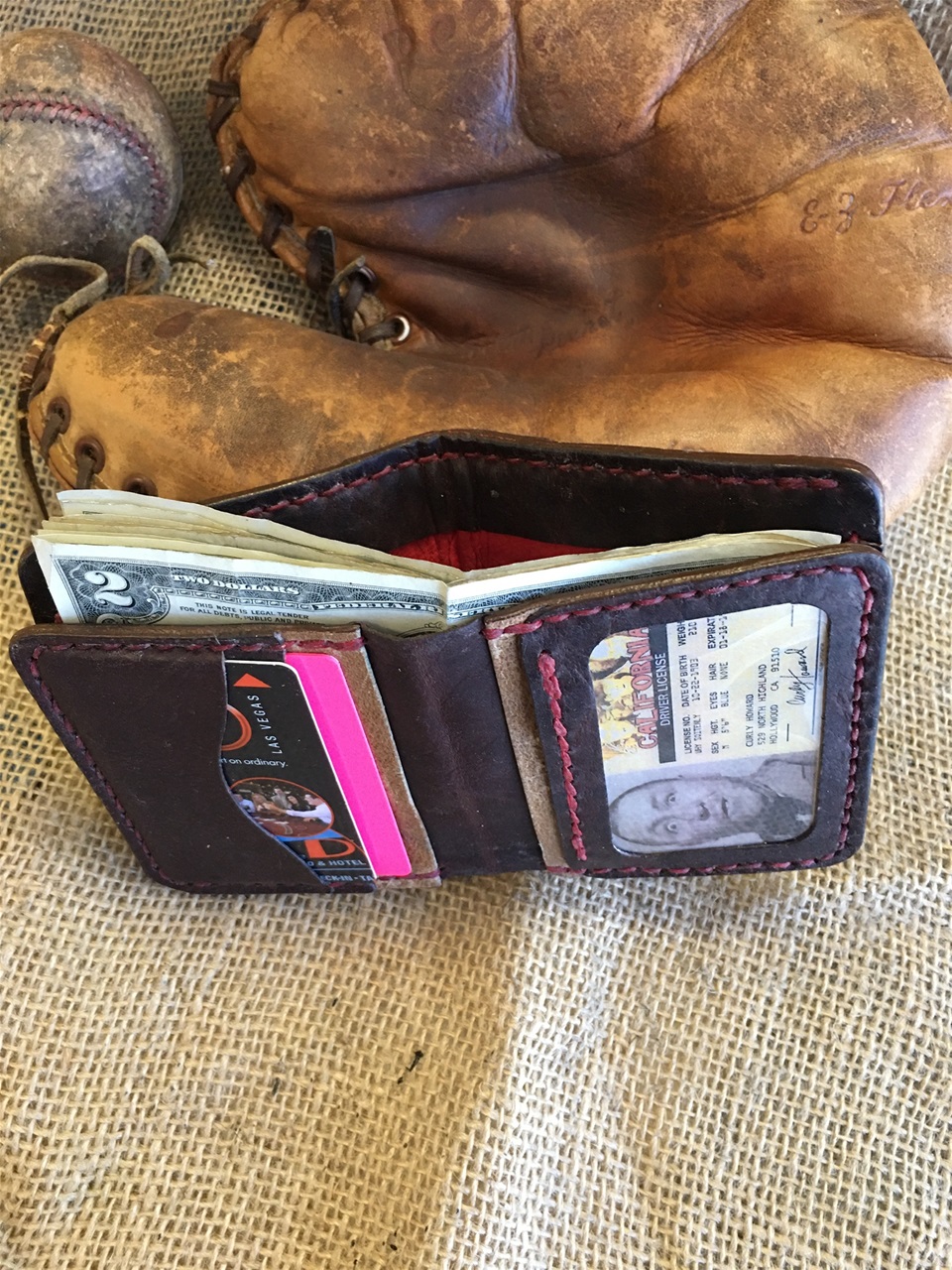 Interior of Vertical Bi-Fold
Gusseted cash compartment of Vertical Bi-Fold
Interior of Traditional Bi-Fold
Interior of Deluxe Spring Clipper
Spring Clipper ID window
Interior horizontal pockets of StandaRd Spring Clipper
Standard Spring Clipper
Interior of Compact Spring Clipper
ID Card Holder outer pockets
Gusseted cash compartment pocket of ID Card Holder
Bison leather of the Passport
Cash strap of Magnetic Card Holder
Magnetic Money Clips using embossed cowhide